Description
The vineyard of Saint Amour is spread across the department of Saône et Loire, south of Macon. PDO since 1946, the designation Saint Amour is one of ten best ten crus of the Beaujolais. The wines of Saint Amour, are powerful, bold and robust but also distinctive and complex. They are usually good keepers and start to reveal themselves in the four or fives years following the harvest.
The evocative name of Saint Amour is inherited from a Roman soldier Amor who converted to Christianity when fleeing the massacres of the Swiss Valais and took refuge in Gaul.
Our plot :
Purchase of grapes, places known as "la grande carrière" and winemaking in our fermenting cellar.
Location : Saint Amour is the most northern cru of the 10 Beaujolais wines. It is in the administrative region of Bourgogne-Franche-Comté. The terroirs are very diversified and the soils are rich. The produced wines are of a beautiful maturity and are close tot their Rhone cousins.
Grape Variety : Gamay Noir
Soil and Subsoil : Slightly stony soil of ancient foothills and alluvium
Surface : 52 Ha 68
Exposure : on a plateau, rows facing south
Plantation : In 1967, 52 Ha 68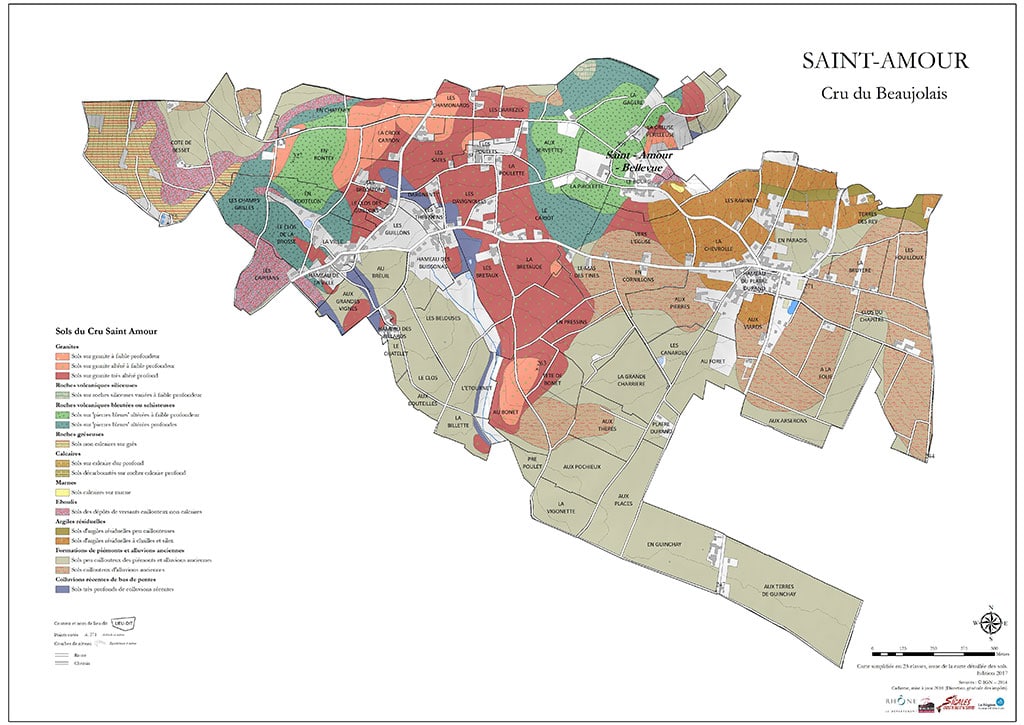 Harvest and winemaking
The grapes were manually harvested in 15 kilos open boxes on September 4th, 2018.
The grape harvest, at maturity and healthy, made it possible to realise the wine making process in optimal conditions.The wines were casked early October and matured in barrels for 9 months. They were then assembled to be bottled in July.
This first vintage offers a wine all in structure, very solar. It has a soul and a grain that leads towards southern destinations.