Description
The Fleurie vineyard is spread accross the commune of the same name, a the heart of the Beaujolais crus. PDO since 1936, the Fleurie designation is one of the ten Beaujolais crus. Regarded as the most feminine vintage, Fleurie produces fine and fragrant wines with subtle and elegant aromas. Pleasant in their youth, the Fleurie reaveal themselves as good keepers and become more complex over time.
According to the legend, the village of Fleurie owes its name to a Roman soldier called Florus.
Our plot :
Purchase of grapes, places known as "La prêle" and "Charbonnière"
Location : Fleurie is the designation where the the soils are the most homogeneous. We are on pure granites altered to shallow depths. The slopes there are strong to very strong. The finess of the taniins is indisputable. The wines of this designation are certainly the finest of the 10 Beaujolias crus.
Grape Variety : Gamay Noir
Soil and Subsoil : Homogeneous granitic soils, altered at shallow depth, evolved rock type
Surface : 1 Ha 4440 in 2 plots
Exposure : South – East and North – East
Plantation : In 1952 , 1 Ha 4440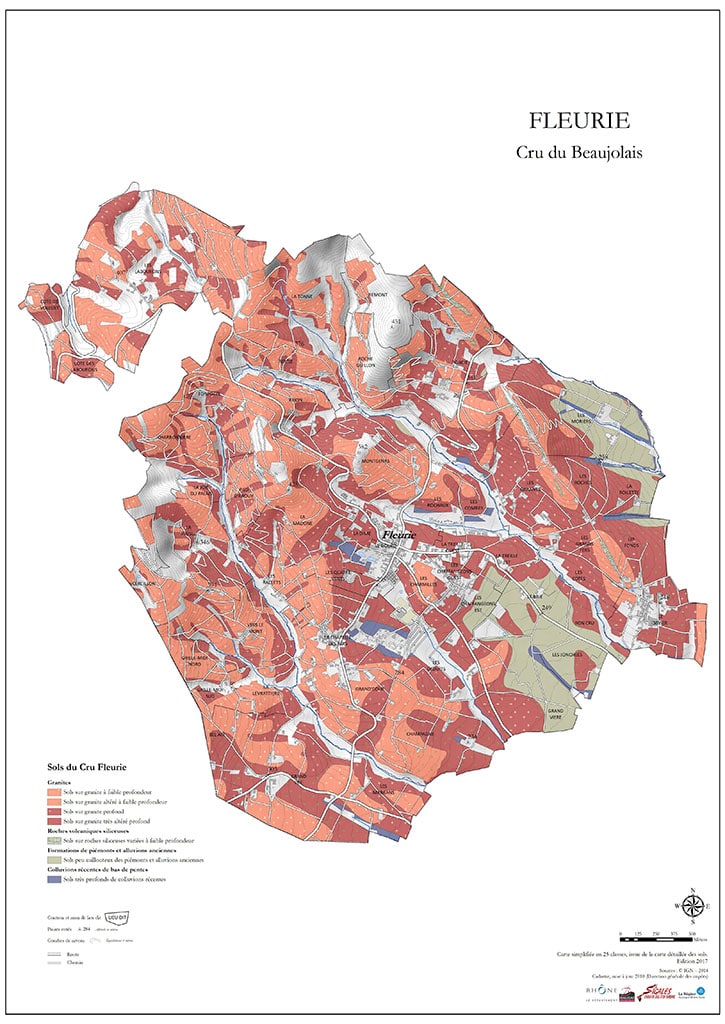 Harvest and winemaking
The grapes were manually harvested in 15 kilos open boxes on September 14th, 2019.
The grape harvest, at maturity and healthy, made it possible to realise the wine making process in optimal conditions.The wines were casked early October and matured in barrels for 12 months.
This 2019 vintage is lace-like and on the subtelty of the tannins, the wine is refreshing. The ending is lingering and very appealing.